7 Most Unique Louisiana Airbnbs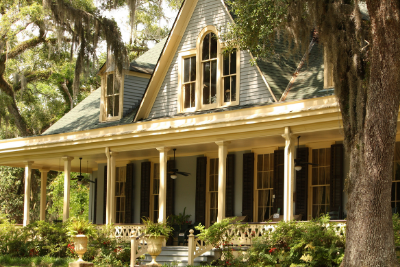 Welcome to the best online resource for the most unique Louisiana Airbnbs. Call or text (225)-234-0022 for more information!
There are a ton of unique Airbnb to stay at that are scattered all over Louisiana, ranging from a simple home with unique features on the inside, to an entire castle that you and your friends or family have to yourself (check out #7). So if you are ever planning an in-state staycation, but still want to experience something more fun than just staying in a hotel room or a regular Airbnb, here are a few fun options to explore: 
1. Haunted new Orleans room
Though it may seem simple on the outside, this home that is located in the heart of the Garden District has three different rooms each with its own unique features. The most note-worthy room is the haunted bedroom. Even though it is noted that the ghost is very shy, some guests do swear to seeing her, and this home was voted among the "Top Ten Haunted Airbnb Locations" by Buzzfeed. If you would prefer your room without spirits, though, this home also has a booklover's dream room and a red room that is decorated with antiques! 
2. Grand isle beachfront campsite
If you don't mind sleeping in a tent, this furnished beachfront campsite is the perfect Airbnb for a weekend beach trip! Located on a beautiful beach ridge that was created by the waves of the Gulf of Mexico, this location is perfect for crabbing, hiking, sunning & boating, or relaxing on the beach! This tent is equipped with all the necessities to make sure you have a great experience.
3. cozy riverfront school bus
Ever wondered what it is like to sleep in a school bus? This school bus Airbnb located in West Monroe is exactly what you get! It features a bathroom, kitchen, dining area, and a plush, memory foam bed with soft bedding to ensure a great night's sleep. The outside patio area is nice for grilling and chilling with your family, friends, or pets! This bus is only about three minutes from downtown, so you can experience a private area near the big city that most locals don't even know about!
4. st. Martinville church
Experience a very unique stay in this beautiful, quaint, church-turned-studio. Some reviews for this Airbnb describe it as a dreamy hidden gem that is situated in a very convenient location. This is the perfect place to stay for history buffs, or if you are just looking for something outside of a hotel room!
5.  Shreveport historic firehouse tower
Originally built in 1922 as the hose tower for the downtown fire station, this Airbnb has been renovated into an apartment for anyone to stay in! This tower has six different levels that are each their own room. The sixth level is the rooftop patio, where you can enjoy the views of downtown, public art installations, and an urban green space that is located directly next door! This home has a contemporary and industrial style in order to keep the fire station feel.
6. Historic new Orleans firehouse
To add to the firehouse theme, this Airbnb is a 19th-century firehouse that has been renovated with modern touches throughout! This historic gem is located in an area that many travel magazines consider one of America's hottest neighborhoods! It fits around 14 guests, and is an easily walkable distance from Frenchman Street, and a little bit longer walk (but still manageable) from the French Quarter!
7. Covington Castle
The final and most impressive Airbnb on this list is this castle located in Covington that offers a truly royal treatment. This castle has so many unique features including (but not limited to) a medieval exterior, a cave-style shower with programmable jets, secret rooms all throughout, a movie theater with massage chairs, a game room with pool tables, and a pool in the back! There is no occasion that this castle couldn't accommodate perfectly for. If you have been on the hunt for a once-in-a-lifetime stay, this is the perfect place!
To read more of our blogs, click here!
We would love to help you with all of your real estate needs, so if you would like to buy or sell a home, call us at (225)-234-0022 or click the button below!
CONTACT US